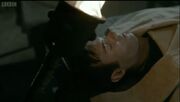 Peter Schelling was an accomplished watch maker from Switzerland who came to Florence with his mother, Mrs Schelling, on unknown business.
Biography
Edit
Little is known about Schelling before he came to Florence, except he was an expert watchmaker who specialised in pocket watches. Peter, along with his mother, came to Florence sometime in 1469. He is known to have stayed at one of the local hotels in the town. He was found late one night, drowned in the river. It is not known wether this was an accident of if he was indeed killed. At the time of his death, he was being watched by Mazzini, one of Piero de Medici's henchmen. The fact that he swallowed Schelling's Watch, leads us to believe he was trying to hide it, possible because he was aware the Luminari were after it. The Luminari were after the watch because it was believed to have control over time. His body was taken to the local mortuary where the young Leonardo da Vinci discovered the ticking time piece. Mrs Schelling viewed the body and was understandably distraught. The corpse of Peter Schelling is presumed to have been taken back to Switzerland and buried.
Personality
Edit
As Peter was already desceased whe he was first encountered, nothing is known of his personality. Out lived by his mother, Mrs Schelling, the two were obviously very close as she was emotionaly moved at recieving her son's lost watch.
Ad blocker interference detected!
Wikia is a free-to-use site that makes money from advertising. We have a modified experience for viewers using ad blockers

Wikia is not accessible if you've made further modifications. Remove the custom ad blocker rule(s) and the page will load as expected.