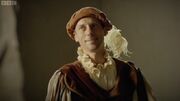 The Museum Guard worked at an art gallery in Florence sometime in the 1400's. He has been seen on two ocasions.
Biography
Edit
He was on duty both times Leonardo da Vinci visited the gallery. The last of which saw the theft of one of the paintings from the gallery. He was tricked into posing for several sketchs after Lorenzo de Medici told him he looked like an ancient king of Rome. The painting was needed for the trap in which to catch Lucio Zangari the loan shark.
Ad blocker interference detected!
Wikia is a free-to-use site that makes money from advertising. We have a modified experience for viewers using ad blockers

Wikia is not accessible if you've made further modifications. Remove the custom ad blocker rule(s) and the page will load as expected.