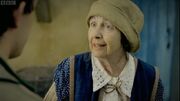 Mrs Schelling (Vanessa Cooke) was the mother of Peter Schelling, the watchmaker and came from Switzerland.
Biography
Edit
Mrs Schelling traveled to Florence wih her son, Peter, some time in 1469 on business. Wether Mrs Schelling was aware of her son's involvement with the Luminari is unknown. What is known is that they booked into a hotel for their stay, and during this time, Peter drowned in the river. Mrs Scelling was obviously over distrought over the death of her son. She was invited to the Medic palace, so that Piero de Medici could qusetion her on the whereabouts of Schelling's Watch, a minatue time piece possible able to control time. Later she collected her son's belongings from the the city mortuary. These included his specticles and a bible. Before she left Florence to return to Switzerland, Leonardo da Vinci, who was in posession of the watch, gave it back to her so she could always remember her son.She might have used the watch to see her son again.
Personality
Edit
Obviously a very caring woman who loved her son. She would always accompany him on business trips and attend to him. She was most thankful to Leonardo for the safe return of her son's watch.
Ad blocker interference detected!
Wikia is a free-to-use site that makes money from advertising. We have a modified experience for viewers using ad blockers

Wikia is not accessible if you've made further modifications. Remove the custom ad blocker rule(s) and the page will load as expected.