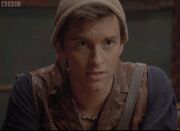 Jonathan is an English actor from Oxfordshire. He was born on the 25 April 1988 in Wallingford, a town in Oxfordshire. Jonathan is best known for his role 'Flatpack' on Campus, the Channel 4 comedy.
He has acted in 3 films, 16 TV shows and nine stage productions. His latest TV show is Pramface on BBC Three on which he plays Glynn in Episode three. He is best known to this wiki for portraying Young Leonardo.
External Links
Edit
Ad blocker interference detected!
Wikia is a free-to-use site that makes money from advertising. We have a modified experience for viewers using ad blockers

Wikia is not accessible if you've made further modifications. Remove the custom ad blocker rule(s) and the page will load as expected.