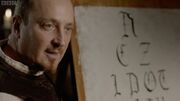 Gilberto Degli Specchi (Alistair Prodgers) was the most exclusive lense maker in all of Florence. He only traded in the most expensive lenses and rims eg ivory. His list of clients include Piero de Medici, Lorenzo de Medici and Professor Pico.
Biography
Edit
Presumably sometime after obtaining his license, he opened his opticians and lense making business in the town of Florence. He only catered for the more exclusive customers. We first see Gilberto when Lorenzo de Medici is pretending to have his eyes checked.
Personality
Edit
Gilberto had a rather brash manner when it came to peasent folk, but an almost simpering attitude towards anyone with money. Willing to provide them with the most stylish and most expensive lenses available at the time.
Ad blocker interference detected!
Wikia is a free-to-use site that makes money from advertising. We have a modified experience for viewers using ad blockers

Wikia is not accessible if you've made further modifications. Remove the custom ad blocker rule(s) and the page will load as expected.